Enjoying a Great Resort in Ayer Besar Island, Jakarta
---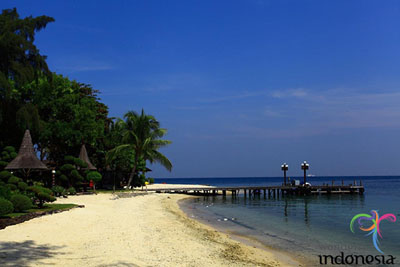 Ayer Besar Island makes a wonderful vacation spot for everyone. The location is in Thousand Island Regency, Jakarta. The best feature is the resort. It is popular both for domestic and foreign tourists, as well. In Ayer Besar, you can find several cottages. Those apply a traditional architecture. The roof is made of sago palm leaves. The best thing is tourists are allowed to rent a whole cottage for themselves. Apart from land cottages, you can also find water cottages. As the name suggests, these are built on a watery terrain.
The Nuance
As mentioned earlier, Ayer Besar Island is famous for its resort. Near to it, there is a solid pier. It represents a well-maintained facility. The resort is surrounded by trees and small gardens. When it comes to seawater, it has a green color. There are no big waves, so it is safe for swimming. Still, most of the visitors come here for leisure. The resort offers the best facilities and comfortable amenities. In a nutshell, it is a paradise for travelers.
Exploring Ayer Besar Island
For those who love challenging activities, Ayer Besar Island can be a wonderful destination since it features a wild terrain. For some reasons, many backpackers often come there. You can come with friends or families. Nature tourism is a primary attraction in Ayer Besar. Make sure you don't miss such opportunity. In the docks, there are several boats. You can hop in and explore nearby islands, too. Not to mention there are numerous facilities such as a restaurant, cottage, karaoke bar, and souvenir vendors.
Next, there is a unique characteristic of Ayer Besar Island. It is Ojar Stage. The locals call it Panggung Ojar. Actually, it is a replica of a sailing boat. Also, it becomes the center of attraction. If you come at the right time, you can witness several events. Apart from that, the island features entertainment systems. If you want to relax, you can find several cottages in Ayer Besar. These include floating and land cottages. Both of them offer high-quality facilities, though.
Not all facilities in Ayer Besar Island are pricey. Though, you shouldn't be stingy. For the best services and amenities, you should spend more money on them. What about backpackers? Well, you shouldn't have to spend money. Getting fun in Ayer Besar can be done freely, after all. For instance, you can sit on the beach and witness the nature. The sound of waves is definitely mesmerizing. This is a free activity so it costs nothing.
Nearby Attractions

Ayer Kecil Island
Bira Island
How to Get There
In order to reach Ayer Besar Island, you must head to Muara Angke. This is your first destination. From the port, you can pick any boat. Even though it takes longer than a speedboat, it is worth a ride. Also, you can enjoy the journey in a comfortable manner. Not to mention the price is cheaper than a speedboat. Once you reach Ayer Island, you can explore it freely. If you want more adventures, you can visit nearby islands, actually.
Where to Stay


Latest News
As the capital city of Indonesia, Jakarta is not only famous for its skyscrapers and the title as one of the largest metropolitan cities in the world. There are many other unique things that Jakarta has to offer, one of them is the creative typical product of Betawi—the native people of Jakarta. As is known, Betawi tribe who inhabit Jakarta as well as parts of West Java and Banten have unique cultural products. For example, lenong. However, as time goes by, the existence of lenong is increasingly displaced and it…
---
For Indonesians, the name of Kepulauan Seribu is already familiar. However, it is different from foreign tourists who rarely hear about the beauty of these islands. They do not think that there is a beautiful natural tourism that is not far from Jakarta. Want to know more details? When boarding the ship to Seribu islands, foreign tourists find it difficult to communicate with the ship's crew, because most of them do not speak English. This is because the crew in Kepulauan Seribu are mostly local people who do not speak…
---
Istiqlal Mosque is one of the halal tourist destinations in Indonesia. The construction process in a number of areas of the largest mosque in Southeast Asia has been completed and has made it ready as a place of worship, study, as well as tourism. The Istiqlal Mosque has become an icon of Indonesia. Many tourists and national heads who visited Indonesia then saw the beauty of the Istiqlal Mosque. If you enter to the mosque, with five floors and one ground floor, you will see the splendor of modern architecture…
---
Jakarta City always becomes the center of tourism, especially for foreigners who spend a vacation in Indonesia. It is the capital city of the nation, after all. That means Jakarta becomes a perfect checkpoint before visiting other regions. Aside from that, it also has tons of attractive vacation spots that offer different themes. For instance, there is the MACAN Museum in Kebon Jeruk Sub-District. Tourists only need to reach Perjuangan 5 Street in order to get to the museum. So, what is in there? Well, the official name is the…
---