Cangkir Island in Thousand Islands Regency, Jakarta
---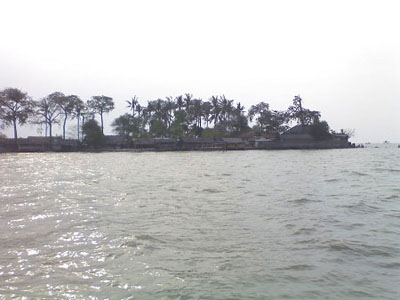 Indonesia never disappoints tourists. It is rich in islands. If you are visiting "Kepulauan Seribu", there is a recommended isle called Cangkir. Another name is Cangkir Kronjo. Why is called that way? Cangkir means "cup". It is because the island has a similar shape to such item. Apart from its unique shape, the island holds numerous attractions. Tourists keep coming due to different reasons. For instance, they want to visit a sacred tombstone. It is the resting place of a theologian of Banten.
The Nuance
The island is situated in the north part of Tangerang. The size is about 4.5 hectares. The thing is you can reach Cangkir easily. Thanks to the bridge. Visitors are able to cross the sea without hassles. It was an important project. This way, everyone can conduct a pilgrimage effortlessly there. The bridge is quite traditional. Even though it seems fragile, it is durable. In some occasions, you may encounter several fishers on it. When it comes to the best time to visit Cangkir, it is either during sunset or sunrise.
Exploring Cangkir Island
As mentioned before, most of the tourists come to the island for a pilgrimage. The gravestone belongs to Prince Jaga Lautan. He's the descendant of the first Banten Sultan. That means he's the son of Hasanudin. Before visiting such sacred burial site, you must know one thing. It takes some money to enter the location. That means you should pay both parking and entry fee. No worries. It is worth your money. Such pilgrimage gives you an amazing experience. It may replenish your spiritual level. Some tourists even look for blessings there.
Next thing to do in Cangkir Island is fishing. You are able to fish either on a deck or a boat. This activity is popular for those who look for a peaceful mood. One thing, tourists should carry their own rod. It is because you can't find any services in the isle. If you don't like fishing, you can simply buy fresh fishes from an auction location. It is situated near to the island. If you are good at bargaining, you can get cheap prices of good products!
Another fun activity is sightseeing. Some local fishermen are seen in the sea. Tourists are allowed to observe such activity freely. It is quite a sight. Apart from those natives, there are other attractive objects. For instance, there are mangroves. In Cangkir Island, you can also find several souvenir stores. Not to mention there are local "warungs". It is an opportunity to buy good stuff and eat delicious local foods. Thus, bringing more money is a good idea.
Nearby Attractions

Tjo Soe Kong Monastery
Pintu Seribu Mosque
Tanjung Kait Beach
How to Get There
In order to reach Cangkir Island, you can depart either from Tangerang or Jakarta. Still, the fastest is from Tangerang. You don't even need to use a boat since there is a bridge connecting Java Island and Cangkir. It is a short and comfortable trip, for sure.
Where to Stay

Hotel Santika BSD City Serpong
Aston Paramount Serpong Hotel
Kinari Residence

Latest News
As the capital city of Indonesia, Jakarta is not only famous for its skyscrapers and the title as one of the largest metropolitan cities in the world. There are many other unique things that Jakarta has to offer, one of them is the creative typical product of Betawi—the native people of Jakarta. As is known, Betawi tribe who inhabit Jakarta as well as parts of West Java and Banten have unique cultural products. For example, lenong. However, as time goes by, the existence of lenong is increasingly displaced and it…
---
For Indonesians, the name of Kepulauan Seribu is already familiar. However, it is different from foreign tourists who rarely hear about the beauty of these islands. They do not think that there is a beautiful natural tourism that is not far from Jakarta. Want to know more details? When boarding the ship to Seribu islands, foreign tourists find it difficult to communicate with the ship's crew, because most of them do not speak English. This is because the crew in Kepulauan Seribu are mostly local people who do not speak…
---
Istiqlal Mosque is one of the halal tourist destinations in Indonesia. The construction process in a number of areas of the largest mosque in Southeast Asia has been completed and has made it ready as a place of worship, study, as well as tourism. The Istiqlal Mosque has become an icon of Indonesia. Many tourists and national heads who visited Indonesia then saw the beauty of the Istiqlal Mosque. If you enter to the mosque, with five floors and one ground floor, you will see the splendor of modern architecture…
---
Jakarta City always becomes the center of tourism, especially for foreigners who spend a vacation in Indonesia. It is the capital city of the nation, after all. That means Jakarta becomes a perfect checkpoint before visiting other regions. Aside from that, it also has tons of attractive vacation spots that offer different themes. For instance, there is the MACAN Museum in Kebon Jeruk Sub-District. Tourists only need to reach Perjuangan 5 Street in order to get to the museum. So, what is in there? Well, the official name is the…
---