A Famous Vacation Destination in Jakarta - Tidung Island
---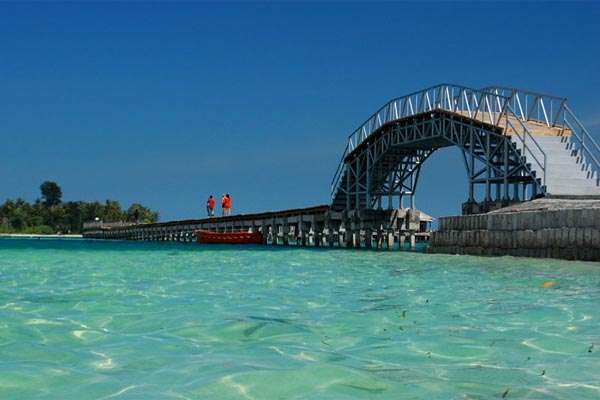 Thousand Islands Regency is part of Jakarta, known as "Kepulauan Seribu". As the name suggests, there are tons of islands in such region. One of them is Tidung Island. It is located about 32 miles from Jakarta. Travelers consider it one of the best islands in Thousand Islands. Tidung came from a particular tribe in East Borneo. The island also holds an interesting history. The thing is the island was part of the Dutch Colonialism. Today, it becomes a worthy vacation destination in Indonesia. Thanks to its splendid scenery and solemn atmosphere.
The Nuance
Thousand Islands Regency has a flawless beauty. These include Tidung Island. Once you reach the location, you can witness a big pier. The color is similar to that of the white sand. There is no fence on it, though. Below, the water is crystal clear. You are able to see the coral reefs and fishes clearly. In the beach, there are many stunning views. The sand is white and soft. In the back, there are several types of trees. Coconut trees aren't an exception.
Exploring Tidung Island
There are big and small Tidung actually. The most popular one is Big Tidung. Not to mention it is the most crowded. Both visitors and villagers make it a merrier place to visit. What about Small Tidung? Unlike its neighbor, this is an uninhabited island. What you can find are the mangroves. In fact, the island becomes natural mangrove conservation. The aim is to reduce the coastal erosion. The best part is tourists are allowed to participate in planting the seeds.
Next attraction is the famous bridge. It is called Love Bridge or "Jembatan Cinta". There are local myths regarding such bridge. The locals believe it as the representation of cupid. Couples who cross it will be blessed by an eternal relationship. Some couples have proven it, in fact. There is also another rumor. Those who plunge off the bridge are able to eradicate mental issues. The height is 6 meters. Dare you to jump? Many locals believe it. What about you?
What's next? It can be as simple as bicycling. You have an opportunity to get around the island using a bike. That doesn't mean you need to carry your own bike. There are several places to rent it. It is possible to explore Tidung Island using a bicycle since the length of the shorelines is only 5 km. The route is easy, as well. Another interesting thing to do is snorkeling. It is a common thing to do in Thousand Islands Regency, after all. Make sure you choose the right spot!
Nearby Attractions

How to Get There
The trip to Tidung Island takes about 2.5 hours. Usually, tourists use a traditional ferry from Muara Angke. For a faster trip, you can use a speedboat. Though, it is only available in Marina Ancol. Overall, you are the one who makes the decision. It is either a local ferry or speedboat. The second option costs more money, though. With more budgets, you can also explore nearby islands.
Where to Stay

Tidung Citra
Charlie Homestay
Tidung Lagoon.

Latest News
As the capital city of Indonesia, Jakarta is not only famous for its skyscrapers and the title as one of the largest metropolitan cities in the world. There are many other unique things that Jakarta has to offer, one of them is the creative typical product of Betawi—the native people of Jakarta. As is known, Betawi tribe who inhabit Jakarta as well as parts of West Java and Banten have unique cultural products. For example, lenong. However, as time goes by, the existence of lenong is increasingly displaced and it…
---
For Indonesians, the name of Kepulauan Seribu is already familiar. However, it is different from foreign tourists who rarely hear about the beauty of these islands. They do not think that there is a beautiful natural tourism that is not far from Jakarta. Want to know more details? When boarding the ship to Seribu islands, foreign tourists find it difficult to communicate with the ship's crew, because most of them do not speak English. This is because the crew in Kepulauan Seribu are mostly local people who do not speak…
---
Istiqlal Mosque is one of the halal tourist destinations in Indonesia. The construction process in a number of areas of the largest mosque in Southeast Asia has been completed and has made it ready as a place of worship, study, as well as tourism. The Istiqlal Mosque has become an icon of Indonesia. Many tourists and national heads who visited Indonesia then saw the beauty of the Istiqlal Mosque. If you enter to the mosque, with five floors and one ground floor, you will see the splendor of modern architecture…
---
Jakarta City always becomes the center of tourism, especially for foreigners who spend a vacation in Indonesia. It is the capital city of the nation, after all. That means Jakarta becomes a perfect checkpoint before visiting other regions. Aside from that, it also has tons of attractive vacation spots that offer different themes. For instance, there is the MACAN Museum in Kebon Jeruk Sub-District. Tourists only need to reach Perjuangan 5 Street in order to get to the museum. So, what is in there? Well, the official name is the…
---