Sakura Beach in Untung Jawa Island, Thousand Islands Regency
---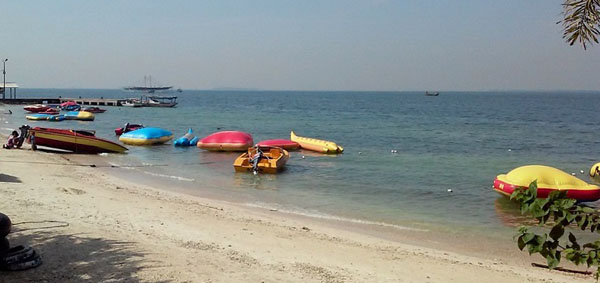 Thousand Islands Regency is a formation of islands located in the north of Jakarta. One of them is called Untung Jawa Island. It is one of the most visited islands in "Kepulauan Seribu". What is so special about the island? Here is a recommendation. The name is Sakura Beach. This beautiful island is situated near to the pier. As the name suggests, the beach is featured by beautiful trees and flowers. It is tourists' favorite location for photography and relaxation.
The Nuance
In terms of appearance, Sakura Beach is similar to other coasts in Thousand Islands Regency. The sand is white and sloping. There is a border in the seashore. That means some parts of the beach are quite safe for swimming. In the back, you can see several trees. They are green and shady. That means they become a good location for resting. On top of that, they are ornamented with colorful and beautiful flowers. These are quite similar to sakura or cherry blossom.
Exploring Sakura Beach
If you expect many people in Sakura Beach, you should come during holidays. The thing is you should pay more for both transportation and accommodations. It is quite normal. For a cheaper vacation, you should come during work days instead. Unlike Tanjung Pasir Beach, Sakura is merrier. That means it is more popular than other beaches in Thousand Islands Regency. Apart from trees, you can find several gazebos. They are a perfect place for relaxation. Don't forget to bring some snacks, so you can enjoy them while watching the sea.
In the horizon, you may see several speedboats passing by. Some tourists also ride a banana boat during holidays. Sakura Beach is definitely charming and joyful. Visitors won't get bored there. The gusty wind also becomes a good feature. It gives a refreshing atmosphere, for sure. For the best experience, you should come to the beach in the afternoon. It is before the sunset. In some occasions, couples are seen nearby. They want to enjoy such romantic moment together.
In the morning, you should reach Sakura Beach once more. This time, you can enjoy a beautiful sunrise! The serene atmosphere combines well with the sound of the waves. What's next? For those who love an outdoor activity, camping is a good idea. It can be done in some parts of the beach. The thing is you should have prepared the equipment beforehand. These include a tent, foods, water, a flashlight, and much more. Fortunately, Untung Jawa Island features many facilities. That means it is easy to buy snacks and souvenirs. Not to mention it is easy to find a cottage.
Nearby Attractions

Ayer Island
Rambut Island
Bokor Island
How to Get There
So, are you ready to visit Sakura Beach? There are two common routes to reach it. Overall, you should head to Untung Jawa Island. First, it is from Muara Angke. You are going to use a common boat. The trip takes about 3 hours. If you take another route, it takes shorter than that. It is in Marina Ancol. No wonder, what you use is a speedboat instead of a traditional boat.
Where to Stay


Latest News
As the capital city of Indonesia, Jakarta is not only famous for its skyscrapers and the title as one of the largest metropolitan cities in the world. There are many other unique things that Jakarta has to offer, one of them is the creative typical product of Betawi—the native people of Jakarta. As is known, Betawi tribe who inhabit Jakarta as well as parts of West Java and Banten have unique cultural products. For example, lenong. However, as time goes by, the existence of lenong is increasingly displaced and it…
---
For Indonesians, the name of Kepulauan Seribu is already familiar. However, it is different from foreign tourists who rarely hear about the beauty of these islands. They do not think that there is a beautiful natural tourism that is not far from Jakarta. Want to know more details? When boarding the ship to Seribu islands, foreign tourists find it difficult to communicate with the ship's crew, because most of them do not speak English. This is because the crew in Kepulauan Seribu are mostly local people who do not speak…
---
Istiqlal Mosque is one of the halal tourist destinations in Indonesia. The construction process in a number of areas of the largest mosque in Southeast Asia has been completed and has made it ready as a place of worship, study, as well as tourism. The Istiqlal Mosque has become an icon of Indonesia. Many tourists and national heads who visited Indonesia then saw the beauty of the Istiqlal Mosque. If you enter to the mosque, with five floors and one ground floor, you will see the splendor of modern architecture…
---
Jakarta City always becomes the center of tourism, especially for foreigners who spend a vacation in Indonesia. It is the capital city of the nation, after all. That means Jakarta becomes a perfect checkpoint before visiting other regions. Aside from that, it also has tons of attractive vacation spots that offer different themes. For instance, there is the MACAN Museum in Kebon Jeruk Sub-District. Tourists only need to reach Perjuangan 5 Street in order to get to the museum. So, what is in there? Well, the official name is the…
---