A Sacred Place in Tidung Island – King Pandita's Tombstone
---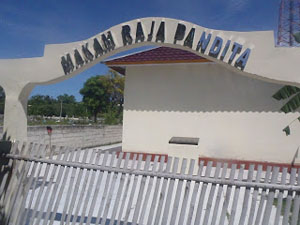 Tidung Island is part of "Kepulauan Seribu". It is considered popular among travelers, as well. In small Tidung, there is a sacred tombstone of King Pandita. Usually, the tour agency may create a tour program for tourists. Thus, everyone can easily access such tourist spot. What about you? Are you interested? It is an interesting religious tourism, after all. When you are visiting Tidung Island, you must never miss it. You can learn the story behind it and take some pictures of the tombstone.
The Nuance
There are actually 3 tombstones. Apart from King Pandita's gravestone, you can see two others. They belong to his relations. These tombstones are located in a small building. Thus, they come in a good condition. A keeper takes a good care of them, as well. Visitors are allowed to enter the house with an authorization. The color of the ceramics is pastel. Each of them has a wooden headstone. It has a shape of a mosque tower. Sometimes, visitors are seen inside the room. In this case, make sure not to step on the tombstones!
Exploring King Pandita's Tombstone
King Pandita's Tombstone is famous for its sacredness. No wonder, tourists come there for blessings. It also holds a good story. During the Dutch Colonialism, he was exiled by the invaders. Actually, Pandita has another name, it is Muhammad Kaca. He came from Malinau, East Kalimantan. His rebellion against imperialism made him a convict. He was sent to Tidung Island and died in 1898. Today, his tombstone becomes a significant lure in the island. As a tourist, you can learn his story from the locals.
Religious tourism becomes more popular these days. It helps people find serenity. Regardless of the reasons, more people keep coming to King Pandita's Tombstone. Usually, tourists want to learn the history of Muhammad Kaca. The keeper even tells visitors about it freely. Not only tourists, some historians take advantage the location for a research. Since the building is clean, you will be comfortable there. Also, visitors are allowed to take pictures inside the room. Isn't that great? Even though it is rare, tourists can take selfies.
One thing, all visitors should take care of the environment. That means you are not allowed to litter. If you want to eat snacks or drink something, you must go outside. At least, you must show respect to that place. It is a sacred tombstone, after all. Giving a prayer is not mandatory. However, most visitors do it. It is not likely you miss an opportunity to pray there. Somehow, the locals are considered the tombstone as a sacred thing. They believe it gives blessings to those who pray there.
Nearby Attractions

Love Bridge
Animal Conservation
Tidung Nautical Garden
How to Get There
Your primary destination is Tidung Island. From Jakarta, you should visit Muara Angke. It is the place to rent a local motorboat. The trip takes about 2-3 hours. Once you reach the island, you need to head to Small Tidung Island by a bicycle. No worries. It takes only a few minutes to reach the tombstone.
Where to Stay

Cottage Anggrek 3
Tidung Lagoon
Tidung Citra

Latest News
As the capital city of Indonesia, Jakarta is not only famous for its skyscrapers and the title as one of the largest metropolitan cities in the world. There are many other unique things that Jakarta has to offer, one of them is the creative typical product of Betawi—the native people of Jakarta. As is known, Betawi tribe who inhabit Jakarta as well as parts of West Java and Banten have unique cultural products. For example, lenong. However, as time goes by, the existence of lenong is increasingly displaced and it…
---
For Indonesians, the name of Kepulauan Seribu is already familiar. However, it is different from foreign tourists who rarely hear about the beauty of these islands. They do not think that there is a beautiful natural tourism that is not far from Jakarta. Want to know more details? When boarding the ship to Seribu islands, foreign tourists find it difficult to communicate with the ship's crew, because most of them do not speak English. This is because the crew in Kepulauan Seribu are mostly local people who do not speak…
---
Istiqlal Mosque is one of the halal tourist destinations in Indonesia. The construction process in a number of areas of the largest mosque in Southeast Asia has been completed and has made it ready as a place of worship, study, as well as tourism. The Istiqlal Mosque has become an icon of Indonesia. Many tourists and national heads who visited Indonesia then saw the beauty of the Istiqlal Mosque. If you enter to the mosque, with five floors and one ground floor, you will see the splendor of modern architecture…
---
Jakarta City always becomes the center of tourism, especially for foreigners who spend a vacation in Indonesia. It is the capital city of the nation, after all. That means Jakarta becomes a perfect checkpoint before visiting other regions. Aside from that, it also has tons of attractive vacation spots that offer different themes. For instance, there is the MACAN Museum in Kebon Jeruk Sub-District. Tourists only need to reach Perjuangan 5 Street in order to get to the museum. So, what is in there? Well, the official name is the…
---