An Adventure in Cipir Island, Jakarta
---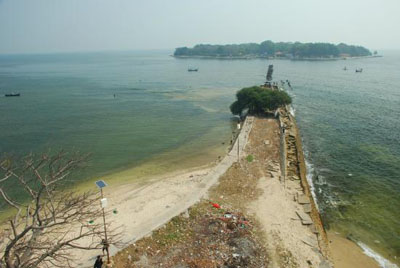 In the Thousand Islands Regency, you can find Cipir Island. Another name is Khayangan Island. Some people also call it Kuipir Island. Today, it becomes a great location for a vacation in holidays or weekends. It is a suitable destination both for backpackers and travel addicts. It is located near to other islands, so you can explore them all within a single day. All of the islands hold historical values, as well. If you are looking for a distinct adventure, Cipir is highly recommended.
The Nuance
Once you have arrived at Cipir Island, you can see some dry trees. Brownish leaves create a rustic nuance there. In the beach, there are several buildings. These are quite old and emit unique atmosphere. In the afternoon, the island becomes more thrilling. You can hear several strange sounds there. Due to this reason, some people come here for an adventure. Not to mention the location is reachable. Many speedboats and ferries are available. On top of that, the transport fee is affordable.
Exploring Cipir Island
Cipir Island is part of "Kepulauan Seribu". So, what makes it special? First, it is the journey. In order to reach the island, you should conduct a tiring trip. Despite that fact, you are going to have a beautiful journey. Once you are reaching Muara Kamal, you can smell the fishy aroma. It is common. That port becomes your first checkpoint. That means you are ready to cross the sea and visit Cipir. A local fisherman's boat is sufficient. You can reach the island safely.
Once you reach Cipir Island, you can feel warm nuance. The atmosphere is a little bit cloudy, though. The island consists of many historical values. It is an ideal location for archeologists. Those who love history would love it as well. In Cipir, there is a famous site called "Cipir Archeological Park. It is situated in the tip of the dock. Many old hospital structures are scattered around the island. Shady trees cover those structures. This creates an amazing nuance!
For those who love fishing, Cipir Island offers some great spots to catch fishes. The heat of the sun doesn't even matter. Another unique attraction is the broken bridge. It is located in a particular corner of the island. The bridge was used to evacuate the pilgrims from Onrust to Cipir. Why was that? Those people were infected by zymotic. In order to avoid the spread of the disease, these people were transformed to other location.
Nearby Attractions

Onrust Island
Kelor Island
How to Get There
If you come from Jakarta, you should visit Muara Angke. From here, you can continue your trip using a boat to Kelor Island. It is your checkpoint, after all. From Kelor, you can head to Cipir Island using another boat. It takes 40 minutes. The whole trip usually takes 3 hours. It can be faster if you choose a speedboat instead of a traditional boat. Also, make sure that you come in the right season. It is because rainy and windy weather makes your trip longer.
Where to Stay

Mutiara Tidung
Pantara Resort
Tidung Lagoon

Latest News
As the capital city of Indonesia, Jakarta is not only famous for its skyscrapers and the title as one of the largest metropolitan cities in the world. There are many other unique things that Jakarta has to offer, one of them is the creative typical product of Betawi—the native people of Jakarta. As is known, Betawi tribe who inhabit Jakarta as well as parts of West Java and Banten have unique cultural products. For example, lenong. However, as time goes by, the existence of lenong is increasingly displaced and it…
---
For Indonesians, the name of Kepulauan Seribu is already familiar. However, it is different from foreign tourists who rarely hear about the beauty of these islands. They do not think that there is a beautiful natural tourism that is not far from Jakarta. Want to know more details? When boarding the ship to Seribu islands, foreign tourists find it difficult to communicate with the ship's crew, because most of them do not speak English. This is because the crew in Kepulauan Seribu are mostly local people who do not speak…
---
Istiqlal Mosque is one of the halal tourist destinations in Indonesia. The construction process in a number of areas of the largest mosque in Southeast Asia has been completed and has made it ready as a place of worship, study, as well as tourism. The Istiqlal Mosque has become an icon of Indonesia. Many tourists and national heads who visited Indonesia then saw the beauty of the Istiqlal Mosque. If you enter to the mosque, with five floors and one ground floor, you will see the splendor of modern architecture…
---
Jakarta City always becomes the center of tourism, especially for foreigners who spend a vacation in Indonesia. It is the capital city of the nation, after all. That means Jakarta becomes a perfect checkpoint before visiting other regions. Aside from that, it also has tons of attractive vacation spots that offer different themes. For instance, there is the MACAN Museum in Kebon Jeruk Sub-District. Tourists only need to reach Perjuangan 5 Street in order to get to the museum. So, what is in there? Well, the official name is the…
---