Damar Besar Island and Its Majestic Lighthouse
---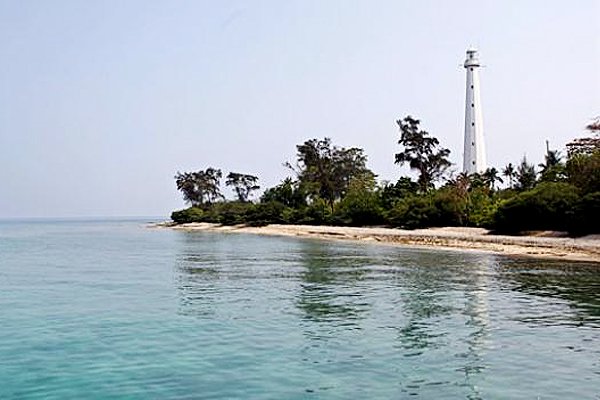 Thousand Islands Regency is located in the north of Jakarta. In order to reach those islands, you should use a boat for sure. As for a reference, Damar Besar Island is a worthy destination. It is part of such archipelago. The name derives from Damar tree. No wonder, the island is covered by lots of such trees. For your information, there is another name of the isle. The locals call it Edam. Near to it, there is Damar Kecil Island. It has a smaller size and it is called Monyet Island.
The Nuance
It is easy to describe Damar Besar Island. Once you have arrived at the location, you may encounter lots of Damar trees. The beach is sloping and it features soft sand. When it comes to the water, it is calm. In fact, there are no waves near to the shorelines. This condition makes a perfect vacation destination. Another feature in the island is a majestic lighthouse. It becomes an icon there. Also, it becomes the main attraction. The views are indeed stunning from above!
Exploring Damar Besar Island
Many tourists come to the island to enjoy its historical value. Why? The island holds an ancient burial site. It belongs to Queen of Banten. No wonder, it becomes a perfect location for pilgrimage. The size of the cemetery is about 4x6 meters. Actually, there are 4 gravestones. As mentioned earlier, one of the tombstones belongs to Syarifah Fatimah. She was the Queen of Banten Sultanate. This woman came from Arab and became a ruler in Banten. The best time to visit is at noon. There is no light at night, so it is better not to come in the evening.
Once you explore such burial site, it is time to visit a grand lighthouse. The name is Vast Licht. It was a heritage of the Dutch Era. Despite its age, it keeps functioning as the guide for incoming boats. The height of the lighthouse is 65 meters. This structure was built in 1879. There is a keeper inside, so you can approach him and ask for permission. Your goal is to reach the top of the lighthouse. That is the spot for perfect scenery. Also, it becomes an attractive object for photography.
Damar Besar Island is uninhabited. That means you may expect a peaceful ambiance there. Also, it is a place to relax. For those with lots of burdens, you can eradicate them all in Damar Besar. Another idea is a family vacation. Bring your kids there, so you can introduce a great lighthouse and a mystical burial site.
Nearby Attractions

Ayer Island
Tanjung Pasir Beach
Monyet Island
How to Get There
In the morning, you should have arrived at Muara Kamal in Tanggerang. It is a meeting point, actually. From here, you are going to ride a boat to Damar Besar Island. You depart along with other passengers. At least, there are 10 people in the boat. The cost of a boat ride depends on of seasons. In holidays, it may fluctuate significantly. In this case, make sure to come in the workdays. It doesn't matter if you bring lots of cash, though.
Where to Stay


Latest News
As the capital city of Indonesia, Jakarta is not only famous for its skyscrapers and the title as one of the largest metropolitan cities in the world. There are many other unique things that Jakarta has to offer, one of them is the creative typical product of Betawi—the native people of Jakarta. As is known, Betawi tribe who inhabit Jakarta as well as parts of West Java and Banten have unique cultural products. For example, lenong. However, as time goes by, the existence of lenong is increasingly displaced and it…
---
For Indonesians, the name of Kepulauan Seribu is already familiar. However, it is different from foreign tourists who rarely hear about the beauty of these islands. They do not think that there is a beautiful natural tourism that is not far from Jakarta. Want to know more details? When boarding the ship to Seribu islands, foreign tourists find it difficult to communicate with the ship's crew, because most of them do not speak English. This is because the crew in Kepulauan Seribu are mostly local people who do not speak…
---
Istiqlal Mosque is one of the halal tourist destinations in Indonesia. The construction process in a number of areas of the largest mosque in Southeast Asia has been completed and has made it ready as a place of worship, study, as well as tourism. The Istiqlal Mosque has become an icon of Indonesia. Many tourists and national heads who visited Indonesia then saw the beauty of the Istiqlal Mosque. If you enter to the mosque, with five floors and one ground floor, you will see the splendor of modern architecture…
---
Jakarta City always becomes the center of tourism, especially for foreigners who spend a vacation in Indonesia. It is the capital city of the nation, after all. That means Jakarta becomes a perfect checkpoint before visiting other regions. Aside from that, it also has tons of attractive vacation spots that offer different themes. For instance, there is the MACAN Museum in Kebon Jeruk Sub-District. Tourists only need to reach Perjuangan 5 Street in order to get to the museum. So, what is in there? Well, the official name is the…
---