A Private Resort in Thousand Islands Regency - Kaliage
---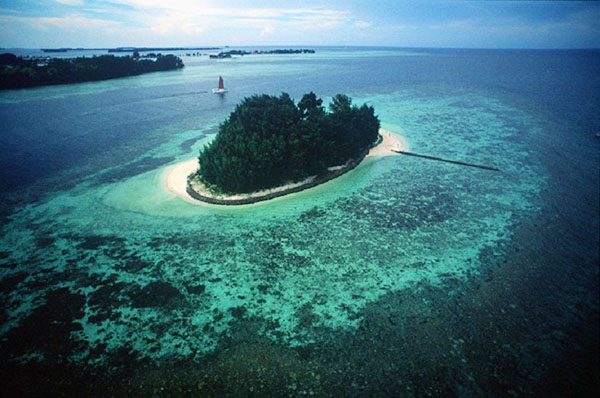 Many islands are scattered in Thousand Islands Regency. They are all part of Jakarta, though. If you are visiting such small archipelago, make sure to come to Kaliage Island. It is famous for its luxurious resort. It belongs to a typhoon named Surya Paloh. Despite its status, the island is open for public. That means tourists are allowed to enjoy their holidays there. One thing, it is definitely pricier than other resorts in "Kepulauan Seribu". Due to this reason, you must carry lots of cash.
The Nuance
In terms of appearance, Kaliage Island is similar to nearby islands. It features dense trees and beautiful sea. The thing is it has a tower. It functions as a signal receiver, so the guests can browse the internet and enjoy entertainment in a maximum way. There are several cottages near to the beach. That means you can relax inside while witnessing gorgeous scenery out there. Some parts of sea water are clear and shallow. It becomes an unavoidable temptation. Almost all visitors would like to enjoy water sports in Kaliage.
Exploring Kaliage Island
The island is uninhabited. There are only some villas and cottages scattered around Kaliage Island. There are some keepers, though. Even though it is open for public, you should get permission in entering the island. Despite this problem, you won't get bored in Kaliage. You can meet other visitors, as well. Mostly, they come from Jakarta. It is a no brainer. They are rich people! What they want are luxury and privacy. What about you? You should try it at least once!
Apart from a flawless beach, Kaliage Island has other attractions. For many, the best one is Isle East Indies Resort. It is located in small Kaliage Isle. The thing is it becomes one of the most recommended places to stay in Thousand Islands Regency. It is suitable either for couples or families. The resort is surrounded by trees, so it gives a comfortable sensation. Each of the rooms applies a traditional architecture. It combines Indonesian and colonialism designs. The rooms represent Indonesian's culture, after all. You can feel a distinct nuance.
In front of your room, there is vast white sand. From there, you can witness beautiful sea scenery. It will be an amazing experience for you. In the next morning, you can enjoy numerous water sports like canoeing, snorkeling, diving, swimming, and much more. For those who love snorkeling, the best spot to reach is the left part of the island. Don't forget to eat your breakfast first. The resort provides it freely in the morning. It is one of the amenities, after all.
Nearby Attractions

Kelapa Island
Opak Island
Harapan Island
How to Get There
The location is a little bit far from Jakarta. Mostly, tourists may depart from Muara Angke. The most common transportation is traditional motor boats. If you look for a more comfortable trip, there are speedboats in Marina Ancol. They cost more than regular boats but offer great comfort and efficacy. No worries. It is worth your money. The trip becomes simpler, as well.
Where to Stay


Latest News
As the capital city of Indonesia, Jakarta is not only famous for its skyscrapers and the title as one of the largest metropolitan cities in the world. There are many other unique things that Jakarta has to offer, one of them is the creative typical product of Betawi—the native people of Jakarta. As is known, Betawi tribe who inhabit Jakarta as well as parts of West Java and Banten have unique cultural products. For example, lenong. However, as time goes by, the existence of lenong is increasingly displaced and it…
---
For Indonesians, the name of Kepulauan Seribu is already familiar. However, it is different from foreign tourists who rarely hear about the beauty of these islands. They do not think that there is a beautiful natural tourism that is not far from Jakarta. Want to know more details? When boarding the ship to Seribu islands, foreign tourists find it difficult to communicate with the ship's crew, because most of them do not speak English. This is because the crew in Kepulauan Seribu are mostly local people who do not speak…
---
Istiqlal Mosque is one of the halal tourist destinations in Indonesia. The construction process in a number of areas of the largest mosque in Southeast Asia has been completed and has made it ready as a place of worship, study, as well as tourism. The Istiqlal Mosque has become an icon of Indonesia. Many tourists and national heads who visited Indonesia then saw the beauty of the Istiqlal Mosque. If you enter to the mosque, with five floors and one ground floor, you will see the splendor of modern architecture…
---
Jakarta City always becomes the center of tourism, especially for foreigners who spend a vacation in Indonesia. It is the capital city of the nation, after all. That means Jakarta becomes a perfect checkpoint before visiting other regions. Aside from that, it also has tons of attractive vacation spots that offer different themes. For instance, there is the MACAN Museum in Kebon Jeruk Sub-District. Tourists only need to reach Perjuangan 5 Street in order to get to the museum. So, what is in there? Well, the official name is the…
---