Visiting Antique Kelor Island in Jakarta
---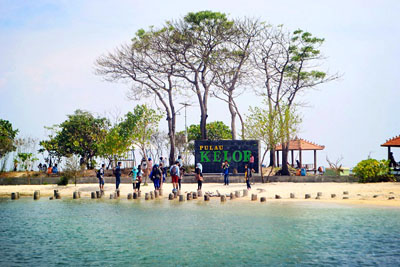 A Thousand Islands Regency offers many tourist spots. If you look for a reference, there is a recommended choice like Kelor Island. In the past, people called it Kherkof Island. It is located near to Bidadari and Onrust Island. From Ancol Beach, the distance is only 1.9 km. No wonder, it had a similar function to those islands back then. In fact, there is a wreck of the Seventh Provincien. The ship was used to fight the Dutch. Unfortunately, it was destroyed and sank near to the island.
The Nuance
What you can enjoy in Kelor Island is its simplicity. The island offers chic nuance and plain seawater. It features several traditional piers. Those are made of bamboos. There are also several fishermen's boats near to those docks. Near to the beach, there is an ancient fort. It was the ruin of the Dutch Colonialism. One thing, there is no light on the island. At night, you may expect a chilling nuance for sure. Some people even consider it a creepy island.
Exploring Kelor Island
Despite its small size, the island holds a valuable history. You can find numerous heritages of the colonialism era. Apart from that, Kelor holds beautiful beach views. It is a perfect location for beach walking and sightseeing. In the sea, you may expect some people fishing. They are looking for groupers. If you love fishing, you can try it as well. Make sure to carry your own fishing rod, though. Also, it requires a permit. That means you should talk to the island keeper first prior to fishing in Kelor.
Next common thing to do is photography. Kelor Island becomes a suitable location for a pre-wedding photo session. The best backgrounds are the Dutch's Ruins. For the best results, you must use a good camera. Also, learn some photography skills. If not, you can hire a professional photographer. He has both experiences and skills to capture the best pictures. The thing is you must pay some fees. In some cases, you need to spend more than you have expected.
As for tips, it is better to carry some refreshments. These include the drinks and snacks. You are going to explore the island, so you must have prepared. An island hopping is also possible. It is because Kelor is located near to Cipir and Onrust. In fact, you can explore those islands within a single day. That means you don't even need an accommodation. Don't forget to carry a camera! Some objects in Kelor are worth a photo shoot.
Nearby Attractions

Onrust Island
Cipir Island
How to Get There
The most common transportation is a traditional boat. You can get this in Muara Angke. Actually, Kelor Island is part of a tour package. These include Onrust and Cipir Island. No wonder, you are able to visit those islands one at a time. They are located near to each other, as well. A trip to Kelor usually takes about 2-3 hours. It can be longer if you are trapped in bad weather. Due to this reason, make sure you have learned the schedule.
Where to Stay

Mutiara Tidung
Pantara Resort
Tidung Lagoon

Latest News
As the capital city of Indonesia, Jakarta is not only famous for its skyscrapers and the title as one of the largest metropolitan cities in the world. There are many other unique things that Jakarta has to offer, one of them is the creative typical product of Betawi—the native people of Jakarta. As is known, Betawi tribe who inhabit Jakarta as well as parts of West Java and Banten have unique cultural products. For example, lenong. However, as time goes by, the existence of lenong is increasingly displaced and it…
---
For Indonesians, the name of Kepulauan Seribu is already familiar. However, it is different from foreign tourists who rarely hear about the beauty of these islands. They do not think that there is a beautiful natural tourism that is not far from Jakarta. Want to know more details? When boarding the ship to Seribu islands, foreign tourists find it difficult to communicate with the ship's crew, because most of them do not speak English. This is because the crew in Kepulauan Seribu are mostly local people who do not speak…
---
Istiqlal Mosque is one of the halal tourist destinations in Indonesia. The construction process in a number of areas of the largest mosque in Southeast Asia has been completed and has made it ready as a place of worship, study, as well as tourism. The Istiqlal Mosque has become an icon of Indonesia. Many tourists and national heads who visited Indonesia then saw the beauty of the Istiqlal Mosque. If you enter to the mosque, with five floors and one ground floor, you will see the splendor of modern architecture…
---
Jakarta City always becomes the center of tourism, especially for foreigners who spend a vacation in Indonesia. It is the capital city of the nation, after all. That means Jakarta becomes a perfect checkpoint before visiting other regions. Aside from that, it also has tons of attractive vacation spots that offer different themes. For instance, there is the MACAN Museum in Kebon Jeruk Sub-District. Tourists only need to reach Perjuangan 5 Street in order to get to the museum. So, what is in there? Well, the official name is the…
---