The Love Bridge in Tidung Island, Thousand Islands Regency
---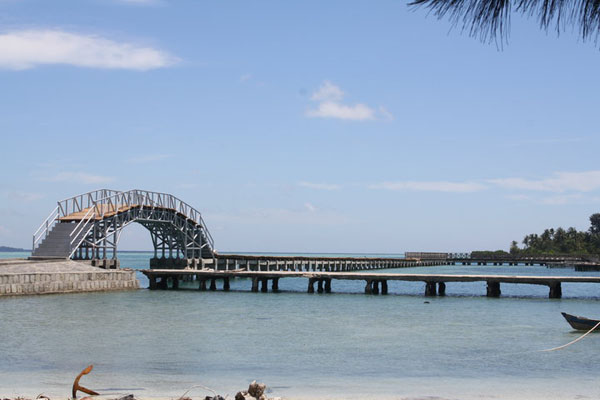 For those who are visiting Thousand Islands Regency, there is a beautiful island called Tidung. It is the home of numerous attractions. One of them is the Love Bridge. The locals call it "Jembatan Cinta". As the name suggests, it is related to a relationship. Tourists are attracted to the bridge due to its story. Not to mention it has a unique shape. Today, the bridge becomes one of the best tourist lures in the island. No wonder, many couples often visit it for a blessing.
The Nuance
First, it is related to the seawater. It is clear and blue. There are no waves, at all. The bridge is located near to the island. It is similar to a pier. There is a unique part, though. It is the middle part of the bridge. The shape is similar to a rainbow. Each side is equipped by fences. In holiday, you may expect many people on it. The breezy wind and blue sky make a perfect nuance. The atmosphere is suitable for a family vacation. Somehow, it also becomes a good spot for sightseeing either sunrise or sunset.
Exploring Love Bridge
Most of the visitors come to the Love Bridge to learn its history. Actually, it was built to connect Tidung Besar and Tidung Kecil Island. It didn't last long, though. Due to severe damages, the government decided to rebuild the bridge. You can learn the history from the locals, actually. Not to mention it holds an interesting myth. It is said if you hold hands with your lover, your relationship would last forever. Due to this myth, lots of couples come there.
The length of the bridge is about 800 meters. It has become an icon of the island. Apart from holding hands, there is another myth. Those who jump off the bridge along with their lover will be blessed by a happy and long-lasting relationship. Have no fear. It is safe to jump into the water. Not to mention the seawater is calm. Thus, you should carry extra clothes. It is likely you are tempted to jump. Most visitors do that, after all.
Not all tourists believe in magic. However, they won't miss an opportunity to jump off the Love Bridge. Once you try it, you should change your clothes before afternoon. There is another attraction. It is the sunset. In the afternoon, you may see several visitors sitting neatly on the bridge. They are waiting for a mesmerizing sunset! What about you? Are you willing to join them? It is a romantic nuance. Thus, you should definitely come with your spouse or lover.
Nearby Attractions

Saung Perawan Beach
Hawksbill Conservation
How to Get There
So, how can tourists visit Love Bridge? Their destination will be Tidung Island. Usually, people depart from Muara Angke. It is a popular meeting point prior to visiting Thousand Islands Regency, after all. Several motorboats are ready for you. The trip takes about 2 hours. It can be faster if you ride a speedboat. The price is going to be more expensive, though.
Where to Stay

Cottage Anggrek 3
Tidung Lagoon
Tidung Citra

Latest News
As the capital city of Indonesia, Jakarta is not only famous for its skyscrapers and the title as one of the largest metropolitan cities in the world. There are many other unique things that Jakarta has to offer, one of them is the creative typical product of Betawi—the native people of Jakarta. As is known, Betawi tribe who inhabit Jakarta as well as parts of West Java and Banten have unique cultural products. For example, lenong. However, as time goes by, the existence of lenong is increasingly displaced and it…
---
For Indonesians, the name of Kepulauan Seribu is already familiar. However, it is different from foreign tourists who rarely hear about the beauty of these islands. They do not think that there is a beautiful natural tourism that is not far from Jakarta. Want to know more details? When boarding the ship to Seribu islands, foreign tourists find it difficult to communicate with the ship's crew, because most of them do not speak English. This is because the crew in Kepulauan Seribu are mostly local people who do not speak…
---
Istiqlal Mosque is one of the halal tourist destinations in Indonesia. The construction process in a number of areas of the largest mosque in Southeast Asia has been completed and has made it ready as a place of worship, study, as well as tourism. The Istiqlal Mosque has become an icon of Indonesia. Many tourists and national heads who visited Indonesia then saw the beauty of the Istiqlal Mosque. If you enter to the mosque, with five floors and one ground floor, you will see the splendor of modern architecture…
---
Jakarta City always becomes the center of tourism, especially for foreigners who spend a vacation in Indonesia. It is the capital city of the nation, after all. That means Jakarta becomes a perfect checkpoint before visiting other regions. Aside from that, it also has tons of attractive vacation spots that offer different themes. For instance, there is the MACAN Museum in Kebon Jeruk Sub-District. Tourists only need to reach Perjuangan 5 Street in order to get to the museum. So, what is in there? Well, the official name is the…
---