Learn Some Thrilling Stories in Onrust Island, Jakarta
---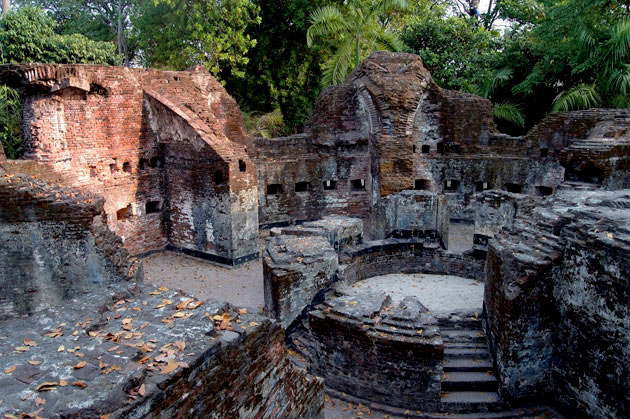 What do you know about Onrust Island? It is part of a Thousand Islands Regency in Jakarta. The thing is it holds a unique story. Some people even consider it a thrilling island. The name Onrust came from English. It means "Unrest". In a nutshell, it is a restless island. No wonder, it was a busy place back then. In the past, it also held a mystery. According to the locals, Onrust became a location to build or repair VOC's ships. There are many other attractive things on the island, though.
The Nuance
The most recognized feature in Onrust Island is the stones. The shorelines feature unique granites. The shape is similar to truncated trees. It is also famous for its archeological garden. Tourists can explore numerous reminisces of the Dutch Colonialism. At the first time, you may feel a ghostlike nuance. The trees are big and shady. There is even an ancient well near to the beach. What a terrifying place! Though, the island is actually beautiful. On top of that, the seawater is calm.
Exploring Onrust Island
A creepy nuance occurs once you reach the island. No wonder, there is an old well and ancient gravestone. Not to mention Onrust Island doesn't feature electricity. You can also find some ruins of building there. At night, it is quite dark. Despite such condition, some people are brave enough to camp on it. What about you? Camping is a challenging activity in Onrust. Without proper facilities, it is going to be a chilling experience. Though, it is worth a try.
Some tourists are attracted to Onrust's history. They want to learn a story behind such eerie island. In the past, the island became a penitentiary for rebels. It was both during the Dutch and Japan Colonialism. The island also became an eyewitness of the deaths of captives. On top of that, it was the home of an exile hospital. Those with infectious diseases were quarantined in it. With all those stories, the government assigned it as a historical site. Today, the island becomes more popular among travelers.
In terms of size, Onrust is bigger than Kelor Island. Due to its historical values, the island has been a worthy place to learn history. Simply said, it is a natural museum. Another unique story is related to an old tombstone. It is said to be Maria Van de Velde's. According to legend, this woman wore a wedding gown and waited for her lover in Onrust. However, no one came and she died alone wearing such beautiful attire. She died by an infectious disease called pestis. This story is considered both interesting and sad for tourists. What do you think?
Nearby Attractions

Pantara Island
Kelor Island
Cipir Island
How to Get There
Some people think it is hard to reach Onrust Island. In reality, it is easy. The island is situated near to Jakarta. For those with lots of cash, taking a speedboat is a good idea. It is fast and reliable. The boat is available in Marina Port. The trip becomes faster if the weather is nice. Thus, you should come in the right time.
Where to Stay

Aston Cengkareng City Hotel & Conference Center
Batavia Hotel
Ibis Jakarta Mangga Dua
Aston Marina Hotel
FM7 Resort Hotel

Latest News
As the capital city of Indonesia, Jakarta is not only famous for its skyscrapers and the title as one of the largest metropolitan cities in the world. There are many other unique things that Jakarta has to offer, one of them is the creative typical product of Betawi—the native people of Jakarta. As is known, Betawi tribe who inhabit Jakarta as well as parts of West Java and Banten have unique cultural products. For example, lenong. However, as time goes by, the existence of lenong is increasingly displaced and it…
---
For Indonesians, the name of Kepulauan Seribu is already familiar. However, it is different from foreign tourists who rarely hear about the beauty of these islands. They do not think that there is a beautiful natural tourism that is not far from Jakarta. Want to know more details? When boarding the ship to Seribu islands, foreign tourists find it difficult to communicate with the ship's crew, because most of them do not speak English. This is because the crew in Kepulauan Seribu are mostly local people who do not speak…
---
Istiqlal Mosque is one of the halal tourist destinations in Indonesia. The construction process in a number of areas of the largest mosque in Southeast Asia has been completed and has made it ready as a place of worship, study, as well as tourism. The Istiqlal Mosque has become an icon of Indonesia. Many tourists and national heads who visited Indonesia then saw the beauty of the Istiqlal Mosque. If you enter to the mosque, with five floors and one ground floor, you will see the splendor of modern architecture…
---
Jakarta City always becomes the center of tourism, especially for foreigners who spend a vacation in Indonesia. It is the capital city of the nation, after all. That means Jakarta becomes a perfect checkpoint before visiting other regions. Aside from that, it also has tons of attractive vacation spots that offer different themes. For instance, there is the MACAN Museum in Kebon Jeruk Sub-District. Tourists only need to reach Perjuangan 5 Street in order to get to the museum. So, what is in there? Well, the official name is the…
---