Tanjung Kait Beach as a Unique Tour Destination
---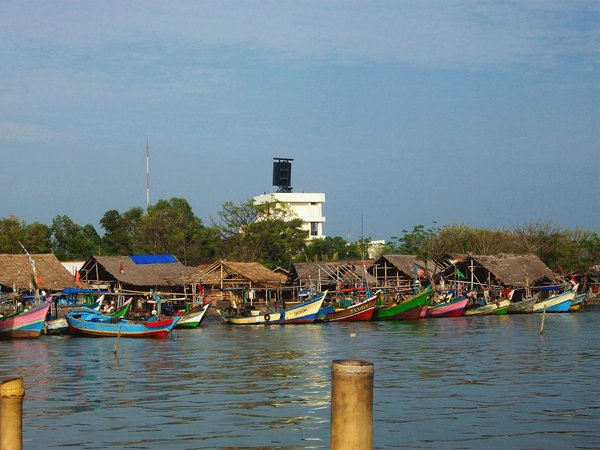 Before going to Thousand Islands Regency, it is better to drop by in Tanjung Kait Beach. It is a popular coast in Tangerang, actually. For those who are looking for a unique sea view, such location should be your choice. The location is in Tanjung Anom Village. It is famous for its fishermen settlement and exceptional structures. Somehow, many photographers choose it as their photography objects. Though, the beach doesn't feature white sand and clear water. That means it is not suitable for swimming.
The Nuance
Once you reach Tanjung Kait Beach, you can see several "Panggung" houses. These are located near to the water. Usually, tourists gather in these houses for eating and witnessing sea scenery. Near to those structures, you can see a traditional pier. It seems fragile, but it is not. Some local boats are parked near to it. Visitors are allowed to rent a boat to explore the beach. Not to mention they can use it to reach nearby islands in "Kepulauan Seribu", especially Untung Jawa Island.
Exploring Tanjung Kait Beach
So, what can tourists do there? The first attraction is the floating huts. As mentioned before, those are suitable for sightseeing. Don't forget to buy a fresh coconut drink! Once you enjoy your time in such structure, it is time to get along with the locals. They are quite approachable. It can be an interesting experience for you. For the best communication, it is better if you can talk the Indonesian Language. If not, a tour guide may talk on your behalf. It takes some money, though. Make sure to come with a proper budget.
Next thing to do is to eat seafood. Tanjung Kait Beach is famous for its delicious seafood. You can try different menus depending on your preferences. What about the price? No worries. They are affordable. The best time to come is during weekends. It is because the beach gets more visitors at that time. For you, it becomes a merrier occasion to enjoy a vacation in Tanjung Kait. As another tip, you should come with your families. Make sure to create an unforgettable holiday!
What is next? It is an adventure with the boat. That means you can get around using a local boat. One thing, you should pay the rent fee. Also, you can only rent a vacant boat. That means it must not be used by the owner for fishing. When it comes to the price, it is negotiable. If you are good at bargaining, you can get the best price. The boat can be used either for island hopping or fishing. You decide. If you don't like a water adventure, you can simply witness fishermen's routines. In some ways, it is quite satisfying.
Nearby Attractions

Laki Island
Untung Jawa Island
Rambut Island
How to Get There
It is easy to reach Tanjung Kait Beach. What you need is a good vehicle. From Jakarta, you can rent a car and head directly to Tangerang. The beach is located in northernmost of the city. It takes only a few minutes from Tangerang. If you want a better direction, you can ask the locals.
Where to Stay

Narita Hotel
Olive Hotel
Mercure Hotel