A Worthy Vacation in Laki Island, Thousand Islands Regency
---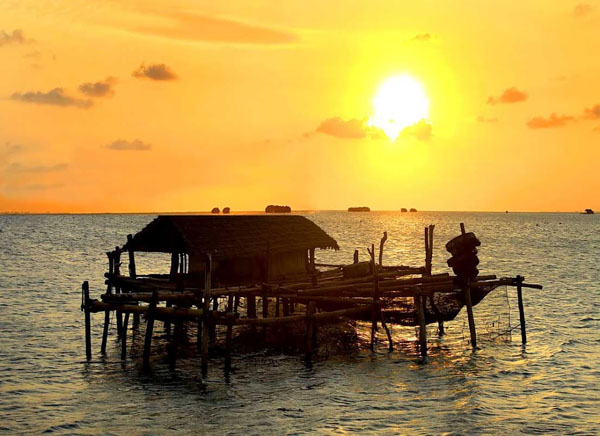 "Kepulauan Seribu" becomes more popular over time. It is because tourists can find unlimited attractions in such archipelago. One of the best islands is called Laki. It is located near to Cangkir Island. Laki means "a man". There is no official record regarding the history of such name. Though, some people make a speculation. Laki Island was a base of VOC. There was a nightclub back then and it was filled only by men. There was no woman on the island, at all.
The Nuance
Despite its unclear history, Laki Island attracts tourists these days. It is because of its distinct beauty. There are Laki Besar and Laki Kecil. Both of them are stunning. In the estuary, the water is flawless and clear. It is calm, as well. No wonder, people come there for fishing. In the back, there are several shady plants. All of those features create a perfect nuance for hunting fishes. One thing, you must come during nice weather. Otherwise, there are no fishes nearby. Rain makes you uncomfortable as well.
Exploring Laki Island
Most tourists come to Laki Island for relaxation. Thanks to the presence of 15 bungalows. All of them feature great facilities such as a jogging track and swimming pools. The tracks are about 5 km and it surrounds the island. Thus, you can come with your family for a vacation retreat. For couples, Laki is also a perfect place for a honeymoon. You don't even need to carry lots of money. Still, you must consult with a tour agent first.
Fishing is also an interesting activity in Laki Island. Don't be surprised with the presence of numerous men in the seashore. According to some experienced fishermen, the island holds good spots for catching squids. Once you have caught several fishes and squids, you can even grill them directly on the spot. Due to this reason, you should have prepared the utensils. For merrier events, you should come with families or friends. A group tour is considered more valuable, after all.
Laki Island is uninhabited. A peaceful atmosphere hits you when you reach the island. With this, you can take advantage of its solemn nature. It helps you eradicate stresses and burdens. For busy people, the island becomes a natural resort. Despite its deserted status, Laki features a good homestay. Everyone has the same opportunity to enjoy its luxuries. What you need is money, so you can explore other islands, too. The most recommended island to visit after Laki is Cangkir Island. Make sure to put it on your list!
Nearby Attractions

Tanjung Kait Beach
Lancang Island
Cangkir Island
How to Get There
The best place to depart is Mauk Beach. It is located in Sepatan, Tangerang. From here, you can take a speedboat to Laki Island. Approximately, the trip takes 25-30 minutes. Once you reach the island, you can either choose a camp site or a bungalow. Each of them offers different experience and nuance. If you don't come with lots of money, you should go camping.
Where to Stay

FM7 Resort
Ibis Styles
J Hotel
Laki Homestay

Latest News
As the capital city of Indonesia, Jakarta is not only famous for its skyscrapers and the title as one of the largest metropolitan cities in the world. There are many other unique things that Jakarta has to offer, one of them is the creative typical product of Betawi—the native people of Jakarta. As is known, Betawi tribe who inhabit Jakarta as well as parts of West Java and Banten have unique cultural products. For example, lenong. However, as time goes by, the existence of lenong is increasingly displaced and it…
---
For Indonesians, the name of Kepulauan Seribu is already familiar. However, it is different from foreign tourists who rarely hear about the beauty of these islands. They do not think that there is a beautiful natural tourism that is not far from Jakarta. Want to know more details? When boarding the ship to Seribu islands, foreign tourists find it difficult to communicate with the ship's crew, because most of them do not speak English. This is because the crew in Kepulauan Seribu are mostly local people who do not speak…
---
Istiqlal Mosque is one of the halal tourist destinations in Indonesia. The construction process in a number of areas of the largest mosque in Southeast Asia has been completed and has made it ready as a place of worship, study, as well as tourism. The Istiqlal Mosque has become an icon of Indonesia. Many tourists and national heads who visited Indonesia then saw the beauty of the Istiqlal Mosque. If you enter to the mosque, with five floors and one ground floor, you will see the splendor of modern architecture…
---
Jakarta City always becomes the center of tourism, especially for foreigners who spend a vacation in Indonesia. It is the capital city of the nation, after all. That means Jakarta becomes a perfect checkpoint before visiting other regions. Aside from that, it also has tons of attractive vacation spots that offer different themes. For instance, there is the MACAN Museum in Kebon Jeruk Sub-District. Tourists only need to reach Perjuangan 5 Street in order to get to the museum. So, what is in there? Well, the official name is the…
---